Experienced Architect Specialising in Residential Projects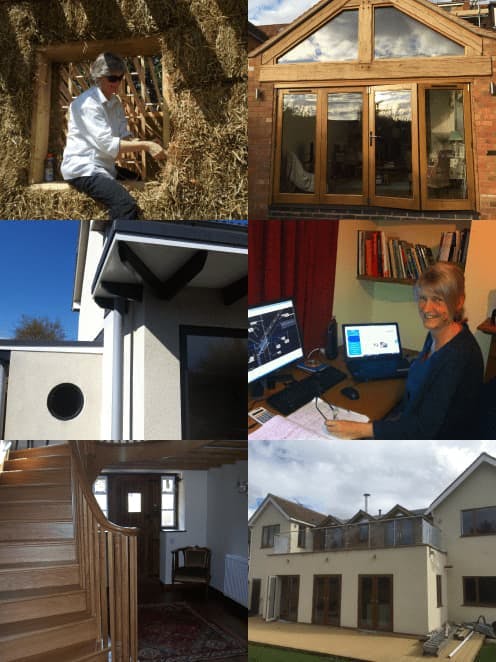 I have many years' experience working in the Architectural arena in the UK and became qualified as an Architect in 1989. From Oxfordshire, within the County Council, to London via a Housing Developer, a Landscape Design Company and small Architectural Partnerships, eventually to Sandwell MBC
I have worked on projects from residential to industrial, as well as a new modern church and community centre, award winning Library with offices and several education buildings. Following long interest in sustainability and energy efficiency, I have completed an MSc in Advanced Environmental and Energy Studies supervised by The Centre for Alternative Technology.
In 2012 I decided I was ready for a new challenge and began my own business trading as Carole Tracey Architect. This allows me to have a great work-life balance and create a healthy calm working environment focussing on residential projects which I love.
Services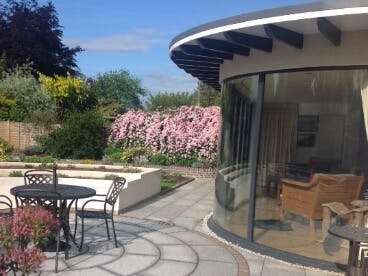 Modern Extensions
Working with clients to satisfy their desires for clean lines, sweeping curves and lots of glass where they want a modern approach.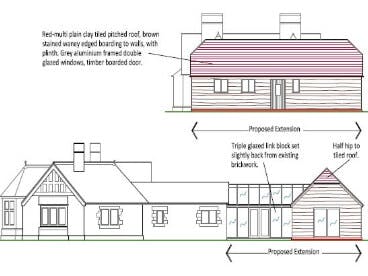 Barn Style Extension
Working with Planners to develop a design for a rural style extension with glazed link to old former lodge.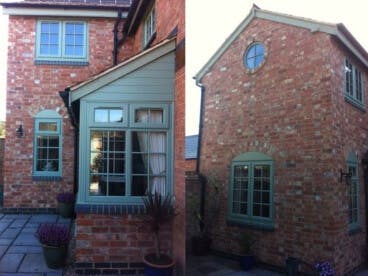 Traditional Extensions
Working in sympathy with the existing building and replicating original features.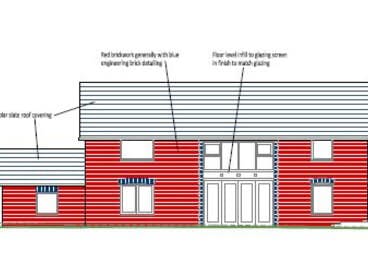 New Eco Houses
Designing Eco houses to embrace the desire for energy efficiency. In this case also aiming to satisfy the local Council's preference for vernacular architecture.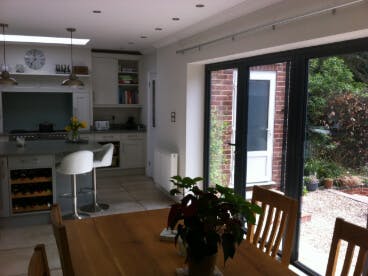 Internal Re-modelling
Envisaging how homes can be re-modelled to achieve that desired wow-factor kitchen/diner with bi-fold doors opening to a garden.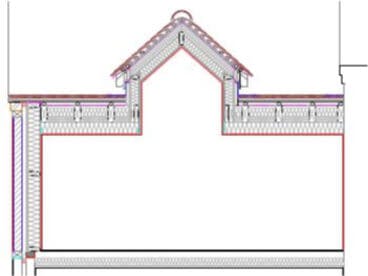 Eco Extensions
Drawing section details for construction with high thermal performance and natural insulation materials. In this case with traditional looking dormers.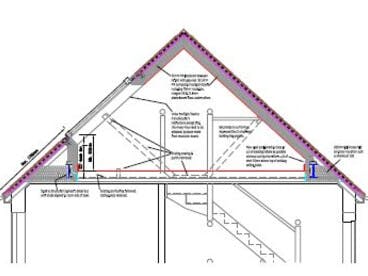 Loft Conversions
Loft conversions with Velux style roof windows and/or dormer windows.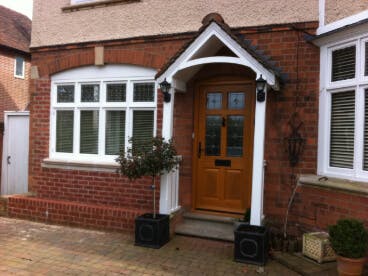 Garage Conversions
Sympathetic garage conversions. In this case the brick arch and key stone were retained and a new stone sill added to match that on the existing bay.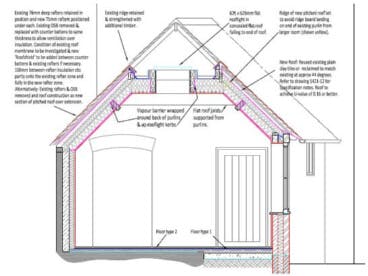 Outbuilding Conversions
Designs for conversion of old agricultural buildings and out buildings, adding high levels of natural insulation and roof-lights where appropriate.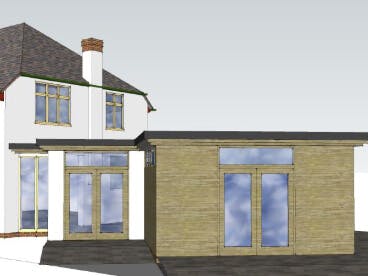 Accessible Living
Designs for single storey extensions to provide accessible living, wet room and ground floor bedroom overlooking the garden.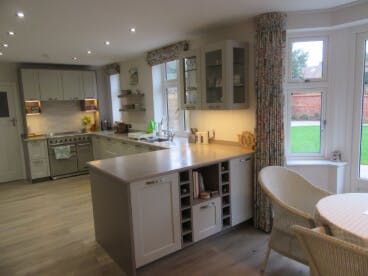 Open Plan Living
Designs that remove walls to create fantastic open plan living.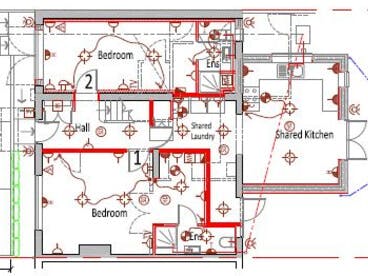 HMO
Conversion of houses to House in Multiple Occupation (HMO) and/or conversions to provide self-contained flats.
"If you have not used an architect before, choosing one to plan a house extension is fraught with risks. We were in such a position, needing an experienced yet innovative architect to design an extension to three sides of our house. Jackpot! We found Carole. She listened to our requirements before producing a stunning design. During the building process she was always available, responding to any queries promptly and with straightforward solutions. Subsequently we have returned to Carole every time we need a good architect. Reliable. No fuss. First-class. That's Carole Tracey. "

Drs K&K
Process
Every project is different. It is my pleasure to meet clients and discuss their requirements to see how together we can develop a design to provide delight in their proposed new house, or renewed pride in their existing home. I enjoy guiding my clients through the maze of regulations that surround the building design process. I can discuss strategies for approaching Planning and Building Regulations and describe the implications of Conservation areas, Party Walls, Green Belt and various other influences on the process. 
I will email my quotation following the first visit. I quote most of my fees on a fixed fee basis which will depend on the size and nature of the project. The first visit of up to one hour is free, but I do make a small charge for travelling expenses unless the site is close to my base. My fees will be broken down into different stages and I invoice for each of those when I have completed the majority of the work involved in that stage. As each client is unique and every project has it's own special features, I like to be flexible about my pricing strategy, but I always try to be fair and provide a good value service.
If you decide to go ahead with employing me, I would ask you to sign the quotation and return it to me so it can become my letter of appointment. This clarifies what you can expect from me at each stage of the process.
This stage is not always necessary, especially for simple jobs. It includes investigating whether what the client has in mind is practical / viable. Sometimes I roll part of this activity into my Proposals stage.
This involves measuring the premises in order to produce a set of existing plans and elevations. It is needed to form the basis from which to work up designs. I can usually conduct the survey myself. I will need to spend several hours on site for this and have access to all rooms. Occasionally if the project is small and not requiring Planning Permission it may be possible to do a reduced survey. Similarly if the client already has some accurate Architectural drawings it might be possible to shortcut the process subject to any copy write in the source drawings.
This is when we will work together to produce a design that satisfies your brief. Sometimes the draft proposals can help to clarify or tweak the brief. I enjoy the challenge of re-imagining how a family can continue to live in their treasured home as circumstances change. I believe in gently guiding my clients towards sustainable solutions for their project and strive for construction methods that exceed the requirements of UK Building Regulations… to what extent will be specific to your project.
As a client you are expected to appoint a Principle Designer under the 2015 Domestic CDM Regulations. I could carry out this role for a limited period if you choose, or you can appoint someone else to carry out this role. It can be anyone who engages in part of the design work. The main things I would do within this role are to help develop the Client Brief and produce a Pre-Contract Health & Safety Plan. I would start this early in the design process but probably not invoice for it until after the Planning stage.
Put very simply, the Planning process concerns what the building is used for, how big it is and what it looks like. Although there are some small projects that can be done under Permitted Development Rights, ie without Planning Permission, it is often necessary to apply for Planning Permission. I will guide you as to which route to take, produce the necessary drawings and documents and lodge the application with the local authority.
Building Regulations are overseen by a different department of the local authority to that covering Planning and can alternatively be administered by an Approved Inspector. This part of the process deals with the more technical aspects of the design, essentially how it is constructed. My BR drawings and specifications are quite comprehensive and fall somewhere between basic BR drawings and a full working drawings package. I will discuss with you the most appropriate route through the Building Control process.
When the Building Regulations process is under way and draft documents are available, most clients will start to look for a Contractor. I generally suggest interviewing at least three local Contractors to find ones you feel happy to go to tender with. Once the project has gained Conditional Approval under the Building Regulations the tender process can start.
Most of my clients prefer to organise the tendering process and deal with the Contractor liaison themselves, particularly on small jobs. However, I can offer support for this process at a level suitable to each individual client's needs.
Your chosen Contractor will take control of the site including all health and safety matters. They will have an overview of any sub-contractors. I can offer telephone and email support as necessary.